Another paean to Sol Invictus
The Dukwheat blog has given Sol Invictus a long and positive review, which the author even describes as another 5/5 review:
"Not since the days of Led Zeppelin have we heard drums, bass and keys add such lush, powerful foundations to the songs. A what schizophrenic songs they are! Take "Sunny Side Up" for example. It starts off as a cool lounge act song, then transforms into a hellish monster, before breaking down into sunnyside funk. "Superhero" is strightforward punk/metal with Patton and Bottom exchanging "Go!" barks before kicking off into the heavy piano laced, guitar riff that leaves you bobbing. It sounds like it would easily fit in on their catalog on their As The Worm Turns early days. "Separation Anxiety" has this hidden, haunting, burning intensity as the bass and drums pummel you, and then like a jack in the box the intense groove is unleashed on you."
"It's Faith No More at their absolute best. The band you loved in the 90's, remember? Well guess what? They're back and better than before."
Mouth of the Ocean back in business
The Mouth of the Ocean Patton and FNM forum is back in business in earnest and the registration issues they have been expertly fixed.
Caca Volante lives again
The Matador effect continues.. How the dead live! "We served you well. Now we're coming back" should be the motto for the From the Dead Caca Volante mailing list as the daddy of Faith No More fan groups returns. CV recently posted on the 20th anniversary of their mention by Bill on MTV:
"To celebrate this landmark, and because the video mentions the original mailing list, I have decided to try an experiment by re-opening the Caca Volante mailing list.
In this day of social media, mailing lists may be seen by many as outdated and clunky, but some folks still like them. So let's see if there's enough interest to get this off the ground again.
To subscribe, simply send an email to [email protected] If you were subscribed five years ago when it closed, you should still be a member."
Here's the video with Bill wearing the most 90s suit ever:
Faith No More in Dark House short story
In tribute to Caca Volante, we'll proceed to nick their latest post. A Faith No More reference from a short story contained in Dark House presents #31.

Patton is Kerrang!'s 12th greatest rock star in the world
A laudable achievement you would say as the FNM front man takes the number 12 position in the rock magazine's "fifth annual countdown of modern rock royalty". Indeed he is ahead of the likes of Lemmy, Trent Reznor and Slash but he still languishes behind Andy Biersack, Alex Gaskarth and Oli Sykes.
New Patton art from Matt Jacobs
Matt Jacobs, the artist behind the forthcoming Faith No More/Mr Bungle comic book, recently added this great picture of Patton at the Wiltern (Thanks Andy) to Twitter.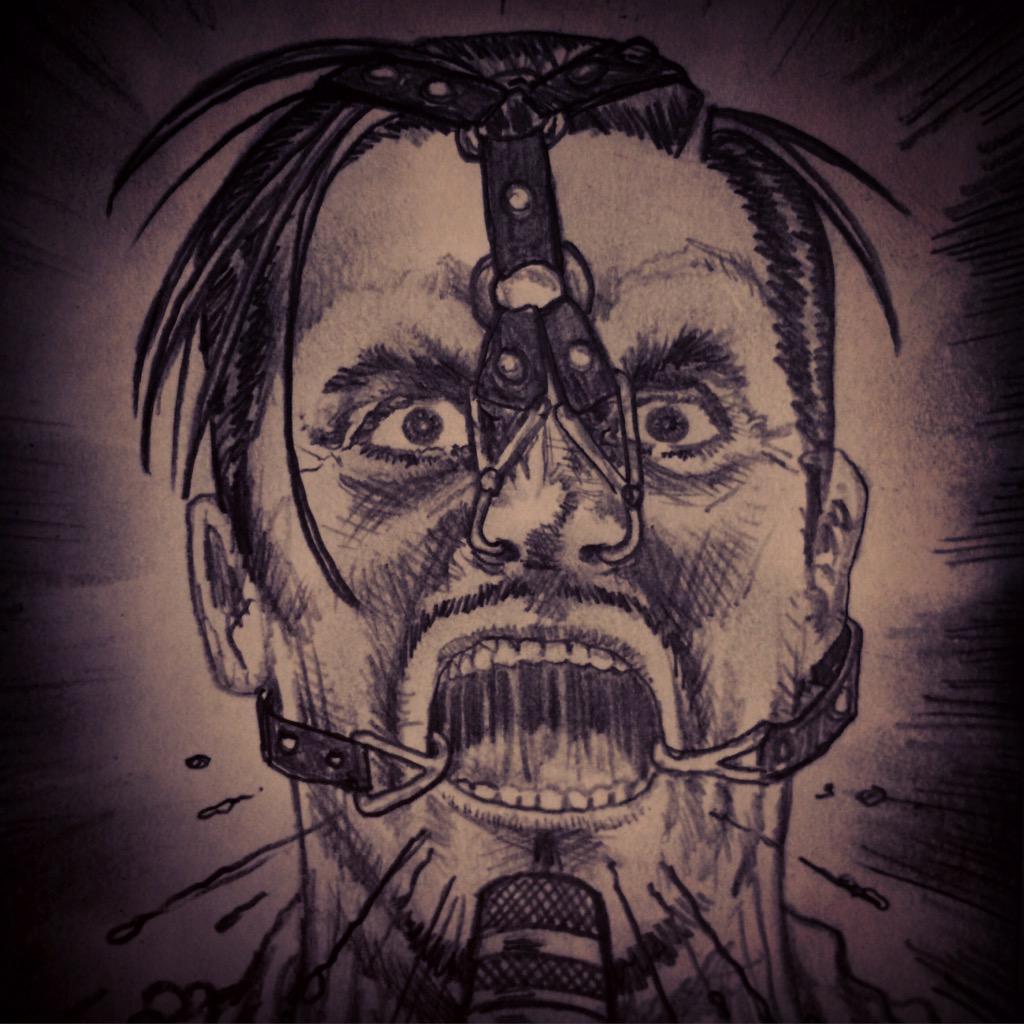 Order the book from your local comic book shop using code 'APR150955' or go online to eBay and pre-order from The Comic Bug.
Gold vinyl at Rough Trade
The UK's leading independent record stores Rough Trade now have Sol Invictus – including the gold vinyl edition – listed on their site for pre-order.